10%, 15%18%, 20%, 35% Oleuropein, 2.5%, 6%, 30%, 50%, 98% Hydroxytyrosol
Anti-diabetes, Anti-oxidant
---
立即咨询
Brief Introduction
Synonyms---
Oleuropein
Chemical Name: 4S,5E,6S)-4-[2-[2-(3,4-dihydroxyphenyl)ethoxy]-2-oxoethyl]- 5-ethylidene-6- [[(2S,3R,4S,5S,6R)-3,4,5-trihydroxy-6-(hydroxymethyl)- 2-tetrahydropyranyl]oxy]-4H-pyran-3- carboxylic acid, methyl ester
Molecular Formula: C25H32O13
Mol. Wt.: 540.514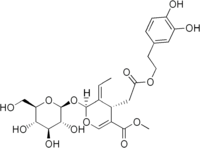 Oleuropein is a chemical compound found in olive leaf from the olive tree (and leaves of privet) together with other closely related compounds such as 10-hydroxyoleuropein, ligstroside, and 10-hydroxyligstroside. All these compounds are tyrosol esters of elenolic acid that are further hydroxylated and glycosylated. Oleuropein and its metabolite hydroxytyrosol have powerful antioxidant activity both in vivo and in vitro and give extra-virgin olive oil its bitter, pungent taste. Oleuropein preparations have been claimed to strengthen the immune system.
Hydroxytyrosol, 3, 4-dihydroxyphenylethanol, 3-Hydroxytyrosol
Chemical Name: 4-(2-Hydroxyethyl)-1, 2-benzenediol
CAS No.: 10597-60-1
Molecular Formula: C8H10O3
Mol. Wt.: 154.16
Molecular Structure: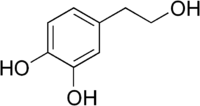 Hydroxytyrosol (3, 4-dihydroxyphenylethanol; DOPET) is a phytochemical with antioxidant properties. After gallic acid, hydroxytyrosol is believed to be one of the most powerful antioxidants. Its oxygen radical absorbance capacity(ORAC) is 40,000 umolTE/g, which is ten times higher than that of green tea, four times higher than that of VC, and two times higher than that of CoQ10.
In nature, hydroxytyrosol is found in olive oil in the form of its elenolic acid ester oleuropein and, especially after degradation, in its plain form. Both compounds, along with oleocanthal, are responsible for the bitter taste of extra virgin olive oil. The olives, leaves and olive pulp contain small amounts of hydroxytyrosol, most of which can be recovered to produce hydroxytyrosol extracts.
Studies have shown that a low dose of hydroxytyrosol reduces the consequences of sidestream smoke-induced oxidative stress in rats.
Hydroxytyrosol has been demonstrated to be a monoamine oxidase inhibitor (MAOI). It functions as a selective reversible inhibitor of monoamine oxidase A (RIMA).
Hydroxytyrosol is a also metabolite of the neurotransmitter dopamine.
The Olive (Olea europaea) is a species of a small tree in the family Oleaceae, native to the coastal areas of the eastern Mediterranean Basin, from Lebanon, Syria and the maritime parts of Turkey and northern Iran at the south end of the Caspian Sea. It is short and squat, and rarely exceeds 8–15 meters in height. The silvery green leaves are oblong in shape, measuring 4–10 cm long and 1–3 cm wide. The trunk is typically gnarled and twisted.
While olive oil is well known for its flavor and health benefits, the leaf has been used medicinally in various times and places. Natural olive leaf and olive leaf extracts (OLE) are now marketed as anti-aging, immunostimulators, and even antibiotics. Clinical evidence has proven the blood pressure lowering effects of carefully extracted Olive Leaf Extracts. Bioassays support its antibacterial, antifungal, and anti-inflammatory effects at a laboratory level. A liquid extract made directly from fresh olive leaves recently gained international attention when it was shown to have an antioxidant capacity almost double green tea extract and 400% higher than Vitamin C.
The primary medical constituents contained in unprocessed olive leaf is believed to be the antioxidant oleuropein and hydroxytyrosol, as well as several other polyphenols and flavonoids including Oleocanthal.
Olive leaf extract is derived from the leaves of the olive tree.
•Anti-diabetes.
•Anti-virus, anti-bacteria, anti-fungi, and anti-protozoa and etc.
•Anti-oxidant (more powerful than Vitamin C and E, with an ORAC value of 10,465mmol TE/g)
•Enhance immune, and improving the auto-immune disorder
•Be lethal to some cancer cells
•Lower blood pressure
•Increase blood flow in the coronary arteries
•Relieve arrhythmias
•Prevent the hardening of the arteries.
Refer to the above introductions of Olieuropein and Hydroxytyrosol.
Side effects: These may be significant, and may include lowering blood pressure and blood glucose; both of these effects can be life-threatening if the user already has a low blood pressure and glucose level. Sufferers of low blood pressure and diabetes are particularly at risk. Interactions with pharmaceutical drugs which force the body to lower its blood pressure and glucose level may be dangerous.
• The typical dose is 300-900mg per day (usually in 2-3 doses throughout the day).
• Consult physicians for different condition specifics.
GNI's Olive Leaf Extract Features and Benefits:
Olive leaf Extract is one of GNI's most competitive products, with many advantages as list in the following, produced as our patent-pending process and know-how technology from Olea europaea L. leaf.
• Produced with pure water only
• High purity: over 35% oleuropein or 98% Hydroxytyrosol
• NO solvent - residual free
• Pesticide-free
• Natural brown to yellow in appearance
• High solubility in water and ethanol with the solution transparence and brilliance color, has been widely added into the beverage and cosmetics as the functional content.
• Can be added into all kinds of foods as the nurture, natural antiseptic to increase the safety of the food.
• Can be incorporated into a formulation for skin damage either by UV radiation or for assisting with wound healing.
• Can be made into capsules, troche and granule as healthy food and drug.
• High anti-bacteria, and longer shelf life
Product Specifications:
10%, 15%, 18%, 20%, 35% Oleuropein, HPLC
2.5%, 6%, 30%, 50%, 98% Hydroxytyrosol HPLC
They are all very good powder extracts, with very good water solubility, and with High Performance Thin-Layer Chromatography test to confirm the identify, of yellow-brown to yellow color, preserving the natural fine scent and taste of the plant leaves. It contains to the full extent of Oleuropein content and has quantified levels of the chemical constituents that produce the anti-diabetes and anti-oxidant effects.