商品名称:
Pygeum Africanum Bark Extract, Prunus Africana Bark Extract
---
2.5%, 7%, 13% Phytosterols HPLC
Prunus Africana L., Pygeum africanum L.
83-46-5 (β-Sitosterol) 8586-74-3 (Pygeum)
Inhibiting benign prostatic hypertrophy(BPH) , Anti-Prostate-Cancer
---
立即咨询
Brief Introduction
Synonyms--- Pygeum,Pygeum africanum, Prunus Africana, Iron Wood, (Red) Stinkwood, African Plum, African Prune, African Cherry, Bitter Almond
β-Sitosterol
Chemical Name: α-Dihydrofucosterol;22,23-Dihydrostigmasterol;24β-Ethylcholesterol;5-Stigmasten-3β-ol
Molecular Formula: C29H50O
Mol. Wt.: 414.7154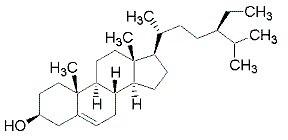 Pygeum, Prunus africana, or Red Stinkwood (see the names, above, for more), is an evergreen tree native to the montane regions of Sub-Saharan Africa and the Islands of Madagascar, Sao Tome, Fernando Po and Grande Comore at about 900-3400 m. of altitude. The mature tree is 10-25 m. high, open-branched and often pendulous in forest, shorter and with a round crown of 10-20 m. diameter in grassland. It requires a moist climate, 900-3400 mm annual rainfall, and is moderately frost-tolerant.
The bark is black to brown, corrugated or fissured and scaly, fissuring in a characteristic rectangular pattern. The leaves are alternate, simple, long (8-20 cm.), elliptic, bluntly or acutely pointed, glabrous and dark green above, pale green below, with mildly serrate margins. A central vein is depressed on top, prominent on the bottom. The 2-cm petiole is pink or red. The flowers are androgynous, 10-20 stamens, insect-pollinated, 3-8 cm., greenish white or buff, and are distributed in 70-mm axillary racemes. The plant flowers October through May. The fruit is red to brown, 7-13 mm., wider than long, two-lobed with a seed in each lobe. It grows in bunches ripening September through November, several months after pollination.
An extract Pygeum, an herbal remedy prepared from the bark of Prunus africana, is used to treat a benign prostatic hyperplasia (BPH, enlarged prostate). Bark extract is marketed under the brand-names of Pygenil in Italy and Tadenan in France. The collection of mature bark for this purpose has resulted in the species becoming endangered, due to some harvesters (spurred on by the high price per Kilo of Bark) removing too much of the bark in an unsustainable manner. In the 1990s it was estimated that 35,000 debarked trees were being processed annually. The growing demand for the bark has led to the cultivation of the tree for its medicinal uses. It is currently protected under appendix II of CITES.
The Natural Standard Research Collaboration states: Pygeum (P. africanum bark extract) has been observed to moderately improve urinary symptoms associated with enlargement of the prostate gland or prostate inflammation. Numerous human studies report that pygeum significantly reduces urinary hesitancy, urinary frequency, and the number of times patients need to wake up at night to urinate, and pain with urination in men who experience mild-to-moderate symptoms. However, pygeum does not appear to reduce the size of the prostate gland or reverse the process of BPH. It is unclear how pygeum compares to the effectiveness or safety of other medical therapies, such as prescription drugs (eg. alpha-adrenergic blockers or 5-alpha reductase inhibitors), surgical approaches, or other herbs/supplements such as saw palmetto. There is ongoing study in this area. Patients with urinary symptoms or BPH should speak with their healthcare professional about the various available treatment options.
Active Ingredients:
The active ingredients are extracted from the bark of the herb, mainly containing 14% triterpenes (urolic acids, oleanolic acid, crataegolic acid), 0.5% n-docosanol, and Phytosterol (β-sitosterol, β-sitosterone, Campesterol).
The Pygeum Bark Extract used in dietary supplements is derived from the bark of the plant Pygeum africanum L. (or Prunus Africana L.) .
•Protecting the bladder smooth muscle against cellular damage caused by ischemia and reperfusion.
•Inhibiting benign prostatic hypertrophy
•Inhibiting cancer of the prostate.
•Restoring secretory activity of prostate epithelium.
•Clearing bladder neck urethral obstruction, significantly improving urologic symptoms and flow measures, also used for incontinence, urine retention, polyuria or frequent urination, dysuria.
•Treat Benign prostatic hypertrophy (BPH) and prostatic adenoma (nocturia, dysuria, pollakiuria, micturitional disorders, and/or bladder fullness)
•Fertility disorder
•Treat Urinary tract infections (UTI) (inflammation and/or difficult urination)
•Treat Inflammation
•Treat Kidney disease
•Treat Malaria
•Treat Stomachache
•Treat Fever
•Treat Madness
•Aphrodisiac Effects
Pygeum Extracts have anti-proliferative effects on fibroblasts and inhibits bladder hyper- reactivity, which are over produced in BPH. Phytosterols competes with androgen precursors and inhibit prostaglandin biosynthesis to reduce prostatic cholesterol levels. Triterpenes have anti-inflammatory activity by inhibiting enzymes involved in the depolymerization of proteoglycans in prostate connective tissue. It improves symptoms of BPH and prostatic adenoma (esp. nocturia, flow rate, voided volume, and/or residual volume) by increasing prostatic secretions and improves seminal fluid composition. .
Drug Interaction and Drug-Disease Interactions
Unknown due to no reporting and/or lack of human data available. .
Adverse Reactions/Side Effects
GI: Nausea, vomiting, diarrhea, abdominal pain, anorexia, and/or irritation
Skin: Hypersensitivity reactions .
Safety Issues
The safety and efficacy of pygeum extract has been demonstrated in numerous short-term (approximately 8 week duration) open label studies and several controlled studies in men to reduce fertility problems and diminish benign prostatic hyperplasia. However, no studies have been performed in pregnancy, lactating women, or children. Therefore, it is contraindicated in these populations due to unavailable or unreliable findings.
•Orally take 100mg daily or 50mg twice daily (max dose of 200mg/day) of standardized lipophilic extract (unknown component partials), it is safe and effective for functional symptoms of BPH for 6-8 week cycles. Orally take 2 tablets three times a day for 3 months for fertility disorders (unknown strength). Currently there is insufficient reliable information available about the usage of Pygeum for its other indications.
• Consult physicians for different condition specifics.
GNI's Pygeum Bark Features and Benefits:
Pygeum Bark Extract is one of GNI's most competitive products, with many advantages as list in the following, produced as our patent-pending process and know-how technology from Pygeum Africana bark.
• Produced with pure water only
• High purity: over 13% Total Phytositosteriols.
• NO solvent - residual free
• Pesticide-free
• Brown-Yellow in appearance
• High solubility in water
• High anti-bacteria, and longer shelf life
Product Specifications:
2.5%, 7%, 13% Phytosterols HPLC